Last week the UK's largest new film and TV studios project has been granted Planning permission. As part of the project team CPTED-UK provided security consultancy at the pre-planning stage. We've registered the scheme for
SABRE (Security Assurance by BRE
) in June 2023. Registration is the first step to achieve the SABRE certification.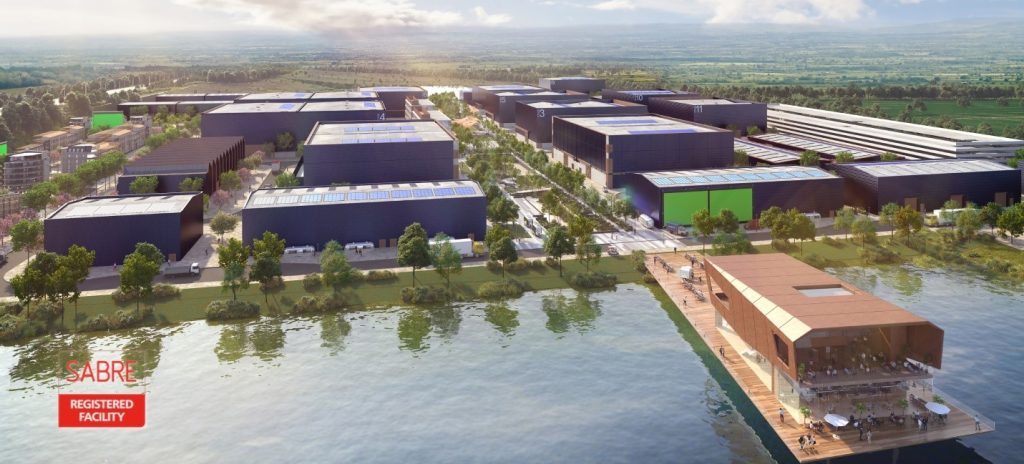 The Home of Production (HOP) studios, soon to be built in Bedfordshire, provide a state-of-the-art studio spaces, directly addressing the needs of producers and their teams. The site features four distinct production zones, intelligently arranged backlot, central campus piazza, VIP restaurant & screening, on-site accommodation and its own transport hub. HOP are committed to the highest standard in the security risk management- SABRE. 
Most Local Authorities require a project of this scale to apply a robust security risk management strategy. Security statement in the Design and Access Statement is not enough. CPTED-UK have registered the scheme with SABRE (Security Assurance by BRE) to evidence commitment to adopting the evidence-led best practice in security risk management.
SABRE methodology is compatible with the Security Overlay to RIBA Plan of Work published in April 2023. The document is the most up-to-date reference source for Planning when it comes to designing out crime.  It provides guidance for incorporating security into the planning and design process in the UK. SABRE methodology, if applied correctly, is also bulletproof when it comes to compliance with security legal and regulatory requirements.
HOP's ambitious sustainability goals required us to adopt the highest standards in security that impact on other ESG dimensions such as inclusivity, accessibility or sustainable transport. Again, the SABRE methodology provides an invaluable framework to support the mental, physical, social and environmental well-being of the community. The multi-disciplinary approach that SABRE advocates is one of the most important trends in sustainable urban development.
SABRE is the only Building Research Establishment (BRE) compliant scheme to meet the criteria for the exemplary level credit under the Hea06.
Gareth Hulmes CSyP FSyI – Head of SABRE at The Security Institute said: "We're delighted that the HOP Studios project has been registered for SABRE assessment. The risk-based methodology set out in SABRE is perfectly suited to environments such as this where complex security requirements demand a tailored approach – blending technical and operational solutions – to achieve proportionate protection, and it's encouraging to see this recognised by the project team. We look forward to seeing the project develop as the team works towards SABRE certification."
CPTED-UK are fully competent in all aspects of SABRE- SQSS, Threat, Risk, Strategy, Technical, Operations. As such we provide a fully competent security advice on each of the RIBA stages. Consistency between the design, construction and operation of the assets is the most affordable way to achieve security compliance.