Jesteśmy niezmiernie dumni z pozytywnychh rezultatów pierwszego w Europie Środkowo-Wschodniej audytu bezpieczeństwa zgodnie z kryterium BREEAM. Wykorzystując naszą wiedzę, kompetencje i umiejętności z zakresu zarządzania bezpieczeństwem pomogliśmy popularnemu w Polsce zespołowi biurowców poprawić wyniki sprawozdawczości ESG.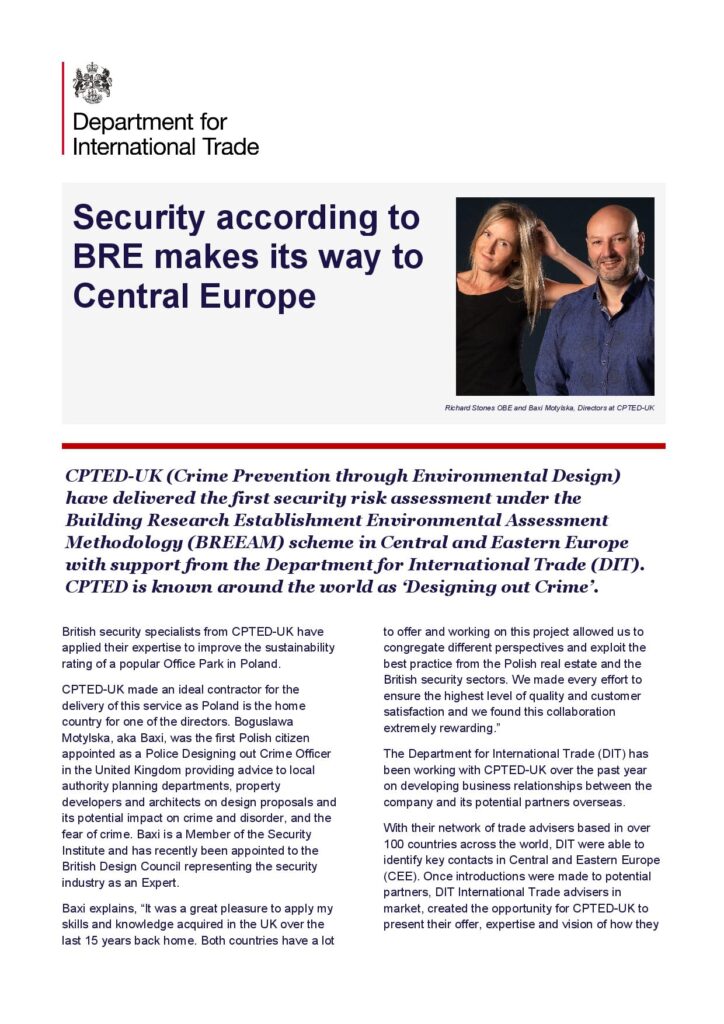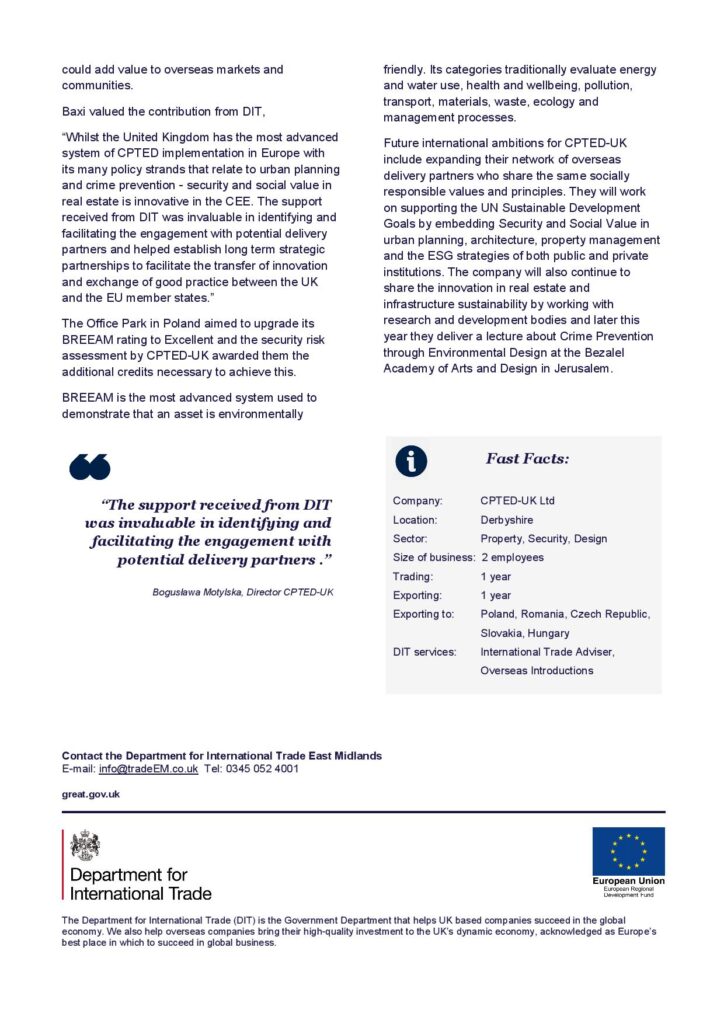 Brytyjski Department for International Trade (DIT) przez ostatni rok pomagał nam rozwijać relacje biznesowe z potencjalnymi partnerami zagranicą. Wsparcie Rządu Brytyjskiego było dla nas bezcenne, dzięki niemu udało nam się stworzyć podstawy długotrwałych relacji strategicznych, które umożliwią transfer innowacji i wymianę dobrych praktyk między Wielką Brytanią, a państwami członkowskimi Unii Europejskiej.
Zamierzami w dalszym ciągu rozwijać relacje partnerskie z podmiotami, które podzielają nasze wartości i zasady związane ze społeczną odpowiedzialnością. Będziemy kontynuować aktywną promocję Celów Zrównoważonego Rozwoju ONZ przez integrację zasad bezpieczeństwa i wartości społecznych w planowaniu przestrzennym, architekturze i zarządzaniu, jak i przez pomoc przy wdrażaniu strategii ESG w instytucjach publicznych i prywatnych. Zamierzamy też nadal wspierać transfer innowacji w ramach zrównoważonego rozwoju sektora nieruchomości i infrastruktury, przy współpracy z instytucjamii badania i rozwoju.
Nasze innowacyjne podejście zostało doccenione przez Bezalel Academy of Arts and Design w Jerozolimie, którego wykłądowcy poprosili nas o przeprowadzenie gościnnie wykładu na temat Crime Prevention through Environmental Design (CPTED) podczas oficjalnego otwarcia Katedry Zrównoważonego Rozwoju.